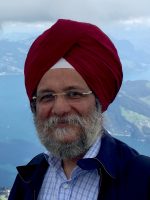 Dr. Guriqbal Singh Jaiya
Co-Chairman, NASCAP
A former IAS Officer and a former WIPO Director, Dr. Guriqbal Singh Jaiya is an internationally recognised IP expert with a focus on IP strategy in business.
His IP competencies span teaching, training and consulting on all aspects of IP strategy and IP assets management from a competitiveness perspective in entrepreneurship, startups and business (be they small, medium or large), schools, universities, publicly funded research and development institutes, business incubators, open innovation networks, amongst others.
He served at the World Intellectual Property Organization (WIPO) Geneva, Switzerland from Nov 1993 to August 2017. During this period, he travelled for IP related assignments to some 70 countries worldwide, although his pioneering work especially on use of the IP system for enhancing the competitiveness of Small and Medium Sized Enterprises served all the 192 Member States of WIPO.
From 2011 to 2015, in his own time, while still working at WIPO, he taught a 6-credit course on IP management in international business to Masters students of International Business at the University of Neuchatel, Switzerland.
While at WIPO, he worked closely with WHO, UNESCO, UNIDO, UNDP, ILO, World Bank, ADB, UNCTAD, Asian Productivity Organization, ESCAP, UNECE, ESCWA, ECA, ECLAC, FAO, International Trade Centre (WTO/UNCTAD).
He returned to India in Oct 2018 and is based in Delhi. Currently he is also (a) Member, FICCI-CASCADE, (b) Member, Advisory Board, XLPAT (AI driven Patent Analytics Firm); en.xlpat.com, and (c) Member, Advisory Board, Anand & Anand (IP Law Firm) https://www.anandandanand.com/
Earlier, from Nov 1990 to Oct 1993 (when he was an IAS Officer of the 1978 batch, AGMUT cadre) he served as a Deputy Secretary and Director in the then Department of Industrial Development, Ministry of Industry, Government of India, where, amongst other things, he dealt with all IP policy matters and represented the GOI in all international negotiations including in multilateral IP negotiations in (a) the TRIPS Negotiating Group of the then GATT (predecessor of the WTO) and (b) the WIPO.
His academic background spans medicine (MBBS, AIIMS, New Delhi), humanities (BA, Delhi University) and law (LLB, Delhi University)