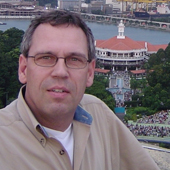 Peter van Dorp
Regional Director, Sweetyet Development Ltd.
Having fulfilled various roles in the distribution and logistics sector, Peter van Dorp has been engaged in the distribution of consumer packaged goods (CPG) worldwide for almost twenty years, the past 10 years as a regional director for Sweetyet Development Ltd (SDL).
SDL is a global branded CPG distributor, a leading company in market & distribution management, international supply chain and brand development with decades of experience in CPG solutions. SDL's clear understanding of various cultures, shopping habits and consumption behaviours has been the key to its growth and success. With main offices strategically positioned in Hong Kong, Singapore, Dubai and Rotterdam, along with branch offices across the world, SDL is able to actively share and exchange information in real time, giving the competitive edge to overcome and manage challenges in the market place. SDL has an extensive brand protection and anti-counterfeit network to identify illicit trade.
Peter is a member of the China based Quality Brands Protection Committee in which 200 esteemed brand owners cooperate with the Chinese government in combating counterfeit. Peter is also a member of the European Aerosol Federation's Anti-Counterfeit Working Group.