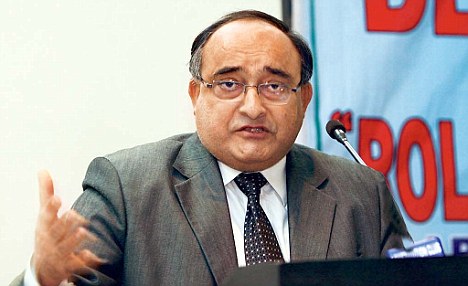 Justice Manmohan Sarin
Former Lokayukta, NCT of Delhi, Chief Justice, High Court of Jammu & Kashmir, Judge, High Court of Delhi
Justice Manmohan Sarin is a graduate from St. Stephens College, Delhi and a Bachelor of Laws from Faculty of Law, University of Delhi, Campus Law Centre. He completed his Post Graduation course in Industrial law and Labour Relations from Indian Law Institute.
In his earlier days Justice Manmohan Sarin worked as in-house Counsel of IBM, World Trade Corporation for 10 years. Between 1979-1995, Justice Manmohan Sarin practiced as an Advocate in the High Court of Delhi and Supreme Court of India and handled multifarious litigation in Constitutional, Civil, Company matters, Arbitration, Laws relating to Press and Media.  Justice Manmohan Sarin was a Senior Panel Counsel for the Government of India for the year 1990 to 1995 and represented the Union of India in a variety of matters in Arbitration and in writ jurisdiction.
As a Judge of the High Court of Delhi for over 13 years, Justice Manmohan Sarin presided over almost every jurisdiction.  He also headed the Tribunal constituted under the Unlawful Activities (Prevention) Act, 1967 in respect of following organizations – ULFA, BODO, NSCN & Deendar Anjuman.
He also served as the Chairman of the COFEPOSA Board during 2007-2008. During 4/9/2008 to 19/10/2008, Justice Manmohan Sarin was the Chief Justice, High Court of Kashmir.
He has participated in several Domestic and International Conferences and Seminars on improving efficacy of Arbitral process, Rehabilitation of Sick Companies, Corporate Restructuring, Money Laundering, Intellectual Property Rights – WIPO, Law Asia Conference on International Trade Law, he has been the President of INSOL India since its inception from 27/9/1997 to 23/5/2008.
Justice Manmohan Sarin, played a major role in setting up the Delhi High Court Mediation and Conciliation Centre and successful training of over 300 Mediators.  He has been a recipient of award for outstanding contribution for establishing and setting up and running of Delhi High Court Mediation Centre, presented by the Chief Justice of India.
He has been Chairman of the Delhi High Court Legal Services Committee and Chairman of the Programme Committee, monitoring the various programmes of Delhi Judicial Academy for training of judges.
Between 2008-2013, Justice Sarin was Lokayukta (Ombudsman) for National Capital Territory of Delhi.  And functioned as Chairman of the All India Committee of Lokayukta's which drafted the Model "Pramukh Lokayukta and Upalokayukta Act". He has been rated by the Lt. Governor of NCT of Delhi as the best Lokayukta Delhi has ever had.
He is also a member of the Indian Council of Arbitration (ICA) and is empaneled as an Arbitrator.