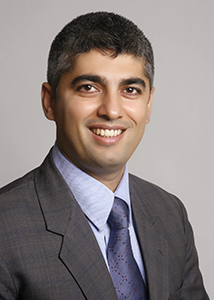 Vikrant Rana
Managing Partner, S.S Rana & Co.
Vikrant Rana is the managing partner of S.S Rana & Co., a premier Intellectual Property Law Firm of India. Vikrant read law at the University of Delhi in 1996 and is enrolled as an Advocate with the Delhi Bar Council since 1996. He is an Advocate-on-Record with the supreme court of India (2006) and registered as a patent agent in 1998. He has been litigating in courts all over India, primarily at the Supreme Court of India, various High Courts across the country, Trademarks Registry, Patent Office, Intellectual Property Appellate Board and the Copyright Board of India. As an experienced IP Attorney he spearheads the team at the firm which includes specialists in law, chemical, biotech and electronic sector.
Having majored in Economics, Vikrant has an in depth understanding of micro and macro factors influencing businesses. With this business understanding, for over a decade, Vikrant has been providing practical legal advice to many Fortune 500 companies and some of the world's most esteemed corporations, on securing, protecting, enforcing and exploiting their Intellectual Property assets in India and world over. His clients range from the disparate fields of food and beverages, IT, e-commerce, health and fitness, Electronics, Chemicals and Pharmaceuticals etc.
He is actively involved in sensitizing awareness on Intellectual Property Rights in India and is associated with several government organizations including the TIFAC, Department of Science and Technology, Patent Facilitating Centers (PFC), Patent Information Centers (PIC), FICCI, Ministry of Small Scale Industries (MSSI), CII, WIPO, TERI, IIM Ahmadabad, BHU etc. and is a frequent speaker and panelist in seminars and conferences conducted by these organizations.
Vikrant has authored several articles in leading law magazines and journals including Managing IP, World Intellectual Property Review, Legal Era etc. His chapter in the book titled, "A Practical Approach to Intellectual Property Law", has been well received by readers. He is a member of several law associations and forums including INTA, FICPI, APAA and AIPPI.
He has been nominated by esteemed clients for the ILO Client Choice Awards 2012 (International Law Office) for providing exceptional legal services pertaining to Intellectual Property Law. He was also nominated in the category of "Managing Partner of the Year" by Legal Era and ALB SE Awards. He is acknowledged by several leading international journals including WTR 1000.
Vikrant has successfully mentored many aspiring lawyers and IP practitioners and their success bears testimony to his guidance. He is also an avid sports man and captained his school volley ball team. An enthusiastic runner, he has completed 11 half-marathons including the prestigious Airtel Delhi Half- Marathon and Standard Chartered Mumbai Half Marathon.