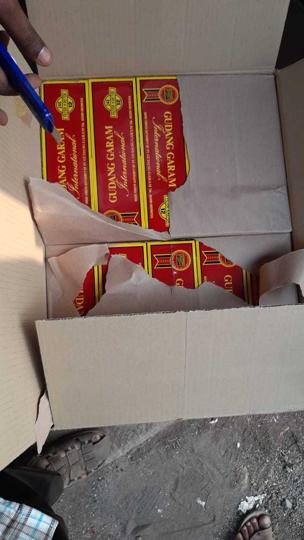 Rs17-crore imported cigarettes seized in Navi Mumbai, 2 held.
The Directorate of Revenue Intelligence (DRI) seized smuggled, foreign-origin cigarettes worth Rs 17 crore on February 5 and arrested two people involved in a cigarette-smuggling racket. According to DRI officials, this is one of the largest cigarette seizures in recent times.
Acting on specific inputs, DRI officials intercepted a 40-feet container at a godown in Taloja, in Navi Mumbai, on Tuesday. The container was from Dubai and its destination was Aurangabad inland container depot (ICD).
Inside, 650 master cartons were recovered, containing clove cigarettes of the Indonesian brand Gudang Garam. When the DRI team raided the godown, the cigarettes were being replaced with declared cargo. The market value of the seized cigarettes is estimated at Rs 17 crore. Gudang Garam is a popular brand among Indian smokers, according to the DRI. In October 2017, the agency seized Rs 6.92 crore worth Gudang Garam cigarettes. During the raid, officials arrested Ranjay Kumar and Rajeev Kumar, and detained two others for questioning.
https://www.hindustantimes.com/mumbai-news/17-crore-imported-cigarettes-seized-in-navi-mumbai-2-held/story-m3FBgicCcsNLr8creAxYSP.html
Related Posts
The Bureau of Customs (BOC) confiscated around P50 million worth of smuggled...