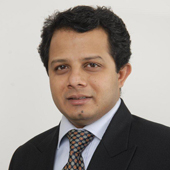 Deepak Jacob
President & General Counsel, Star India
Deepak Jacob is currently the President & General Counsel of Star TV group in India. He is responsible for all legal & regulatory matters that impact Star's businesses in India. He also manages the government relations portfolio along with the CEO for Star and is the point person for all policy and strategic matters involving the government of India & the regulators.
Deepak is one of the members of the Joint Task Force (JTF) constituted by the Ministry of Information & Broadcasting, Government of India, for the phase-wise implementation of the digitalization roadmap of the cable TV sector in India. He is also nominated on the Board of Broadcast Content Complaint Council (BCCC), which is the self-regulatory body, for regulation of content for non-news and current affairs television channels in India. As a lawyer, he has rich and varied work experience across a variety of industry sectors such as Media, Telecom, Information Tech and ecommerce businesses.
His prior roles have been as the head of Legal for eBay India where he was responsible for all India related Legal, Regulatory & Law Enforcement issues. He also has done a 3 year stint in the telecom sector as Senior Legal Counsel at Reliance Infocomm Ltd, in the Broadband & Corporate Wireless division. Prior to joining the corporate sector he practiced as a litigation lawyer in the Delhi courts for over 6 years and did a 3 year stint as a corporate lawyer with a leading law firm in Delhi.