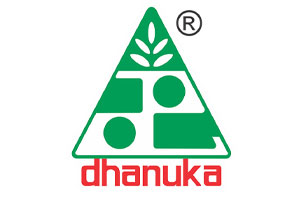 Dhanuka Group
Dhanuka Agritech Limited is one of India's leading agri-input company and is listed by Forbes Magazine in the category of "200 Best under A Billion Companies in Asia Pacific". The Company is listed with Bombay Stock Exchange and National Stock Exchange of india. Dhanuka has been awarded Company of the Year (Agro Chemical Category) by Federation of Indian Chambers of Commerce and Industry (FICCI) in 10th Biennial International Exhibition and Conference –India Chem 2018 and has been bestowed with many awards and recognitions from time to time. The Company has recently been recognized as "Great Place to Work for the year 2018-19". Dhanuka has Pan-India presence through its marketing offices in all major states across India. The 3 manufacturing units with 39 warehouses and network of over 8 branch offices across the Indian geography caters to 6,500 distributors & approximately 75,000 dealers. Dhanuka's workforce with more than 1,000 techno–commercial staff, supported by a strong R&D division and a robust distribution network helps Company to reach out to approximately 10 million Indian farmers with its products and services. Dhanuka's R&D division has world class NABL Accredited Laboratories and has international collaborations with the world's seven leading agri-input companies from US, Japan and Europe which helps Dhanuka to introduce the latest technology in Indian farmlands.
Dhanuka has three state of art manufacturing facilities in Rajasthan, Gujarat and J&K with well-equipped Quality Testing Facilities. The R&D center is located at Gurgaon, which is recognized by the Ministry of Science & Technology for generating scientific data and evaluation of new chemistry.
Dhanuka Agritech Limited with more than 321 registrations including Herbicides, Insecticides, Fungicides and Plant Growth Regulators /Bio- Stimulants and with over 330 active SKUs has one of the most extensive market penetration in agri-input industry. Dhanuka has solutions for all major crops grown in the country including cotton, paddy, wheat, sugarcane, pulses, fruits & vegetables, plantation crops and others. The Company's impetus is on marketing quality and eco-friendly chemistry which comply with ICM/IPM and is safe to human beings and beneficial to flora & fauna. Dhanuka is recognized as one of the leaders amongst Indian agro-input companies in branded agro-input product sales. The Company has developed several Public-Private and Private-Private partnerships for agricultural extension projects which are accelerating the transfer of improved agriculture technology to the Indian farming community.