Two nabbed for liquor smuggling.
Ludhiana: The Koom Kalan police have booked Deepak Narula of Bahini Doaba village for liquor smuggling under sections 61/1/14 Excise Act. The police said on a tip-off, a police party raided his residence and recovered 10 cases of whisky hidden in the household items. Deepak, however, escaped. In another case, the police arrested a woman and Deepak, both residents of EWS Colony on Tajpur Road, for liquor smuggling. The duo, along with their woman accomplice, has been booked under sections 61/1/14 of the Excise Act. They were selling countrymade liquor on Tajpur Road on Sunday when a police party caught them in the act and recovered four cases of liquor from them.
https://www.tribuneindia.com/news/two-nabbed-for-liquor-smuggling-46844
Related Posts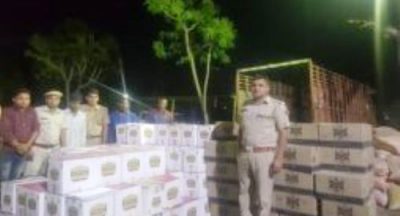 An Eicher truck with number UP14 AF 9521 allegedly transporting illegal liquor...