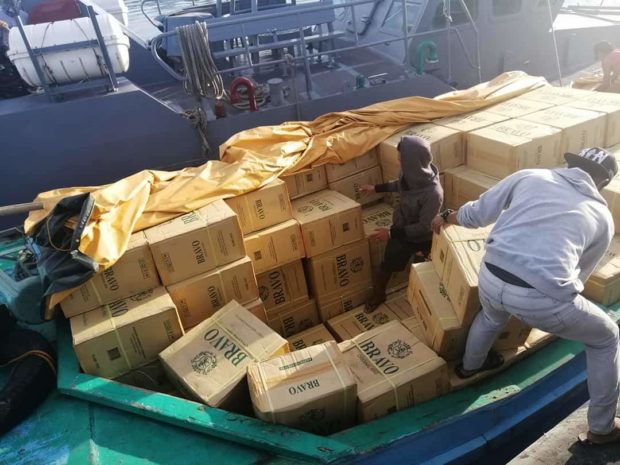 BOC, Navy intercept P25M worth of smuggled cigarettes in Zamboanga.
Customs and Navy agents seize 740 boxes of cigarettes – likely smuggled from Malaysia – in Zamboanga City last June 20, 2019. The contraband was loaded onto "MJ Farnaliza" and valued at P25 million. Photo courtesy of Bureau of Customs MANILA, Philippines — Bureau of Customs (BOC) and Philippine Navy operatives have intercepted a boat that was carrying smuggled tobacco products worth P25 million in Zamboanga City. The contraband loaded onto the boat named "MJ Farnaliza" likely came from Malaysia, according to authorities. BOC and Navy members seized the smuggled cigarettes last June 20. Authorities believe MJ Farnaliza came from Jolo province. Three crew members of the boat were also arrested during the operation, a source from BOC's Intelligence and Investigation Service told INQUIRER.net on Monday. The source added that the crewmen, who claimed they were only hired to transport the 740 boxes of cigarettes to Zamboanga are currently placed under BOC's custody as they undergo further investigation.
https://newsinfo.inquirer.net/1133506/boc-navy-intercept-p25m-worth-of-smuggled-cigarettes-in-zamboanga
Related Posts
Alibaba Group Holding Limited (NYSE:BABA) was sued by Kering, a luxury goods...