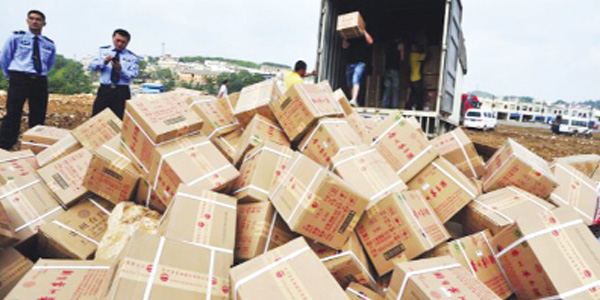 Chinese police destroy £ 21m of counterfeit designer goods
Chinese police destroyed £21 million of counterfeit designer goods on Thursday in a lavish publicity stunt aimed at showing the world they are cracking down on the illegal trade. Fake wine, cigarettes, handbags and cosmetics were all thrown on a fire in Guiyang, southwest China's Guizhou Province.  But authorities have a long way to go – a recent UN report revealed a staggering 75 percent of all fake goods seized worldwide from 2008 to 2010 were primarily from China. The World Customs Organization also said the booming industry accounts for some two percent of world trade despite it being considered a 'soft' form of crime. The UN report stated that counterfeit goods accounted for one third of the organised crime in East Asia and the Pacific is worth approximately $ 90 billion. Most counterfeits fall into four categories: CDs and DVDs; accessories, watches and footwear; tobacco products; and textiles.
Counterfeit commerce over the Internet has soared in the past couple of years, turning what had been an irritant to businesses into a serious competitive threat. Last year an entire city in China literally shut up shop when nearly all of its stores closed after it was falsely reported that officials were planning a clampdown on the sale of counterfeit products. Officials in Shenyang city were forced to beg store owners to reopen after 95 percent of shops remained closed. The online rumour sparked fears that the local council needed to get more revenue and had ordered taxmen to come down hard on shop owners.
Western countries have often complained China is woefully behind in its effort to stamp out the trade, although it has started to crack down. In November police arrested 73 people suspected of manufacturing and selling almost 1 million fake luxury bags in China.
http://www.pakistantoday.com.pk/2013/05/17/news/profit/chinese-police-destroy-21m-of-counterfeit-designer-goods/
Related Posts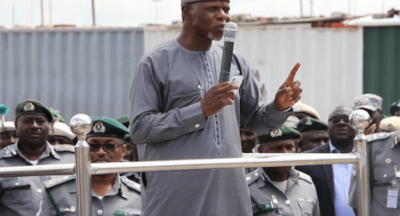 Operatives of Nigeria Customs Service (NCS) say about 339 smuggled vehicles worth...