Customs seizes P11-million smuggled cigarettes in Pagadian City
ZAMBOANGA CITY – The Bureau of Customs (BOC) seized about 360 master cases of smuggled cigarettes with an estimated market value of P11 million off the coast of Tabina town in Zamboanga del Sur and reportedly bound for delivery and distribution in Pagadian City.
BOC- Zamboanga City District Collector Segundo Z. Barte Jr. said the Zamboanga Peninsula Inter-Agency on Anti-Smuggling (ZPIAonAS) team led by Customs Intelligence and Investigation Service (CIIS) and Enforcement and Security Service (ESS) intercepted the delivery of the P10.8 million contraband on Friday, Oct. 9.
Barte said the smuggled and imported cigarettes came from Sulu province on board F/B Normay and were scheduled for delivery to a certain Asul in Pagadian City when authorities were able to intercept the shipment off the coast of Tabina town.
Representatives from Philip Morris Fortune Tobacco Inc. also witnessed the seizure of the contraband that included the fake brands of "Fort," "New Far," "San Marino," "Royal," and "Astro."
https://mb.com.ph/2020/10/14/customs-seizes-p11-million-smuggled-cigarettes-in-pagadian-city/
Related Posts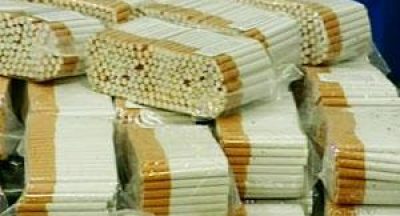 Rampant cigarette smuggling isn't the problem in New York--"sky-high" tobacco...