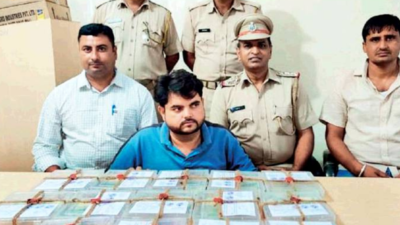 Fake notes smuggled into Rajasthan made in Bangladesh
JAIPUR: A day after arrest of a 29-year-old man with Fake Indian Currency Notes (FICN) of Rs 1.97 lakh during a crackdown in the Ladnun area of Nagaur, the police on Saturday stated that the genuine looking FICN must have been smuggled into India via Bangladesh.
Police in its so far investigation also found that the accused is related to a smuggler of FICN Babu Khan who was earlier arrested by the special operation group (SOG) wing of Rajasthan police. Police will also find in the interrogation of the accused on the areas where the FICN were penetrated across Nagaur or in some other parts of Rajasthan.
The accused identified as Bundu Khan was arrested with the FICN.
"In the investigation it was found that the accused got from one Rafiq Khan who is a smuggler of FICN in the area. The accused Rafiq was earlier arrested by the SOG with the illegal possession of the fake currency notes of Rs 3 lakh. Thus, in this case Rafiq Khan would also be arrested," said Abhijeet Singh, superintendent of police, Nagaur told TOI.
https://timesofindia.indiatimes.com/city/jaipur/fake-notes-smuggled-into-rajasthan-made-in-bangladesh/articleshow/86722051.cms
Related Posts
JUMA Mlagaja bought fake electrical wiring cables unwittingly for his new...