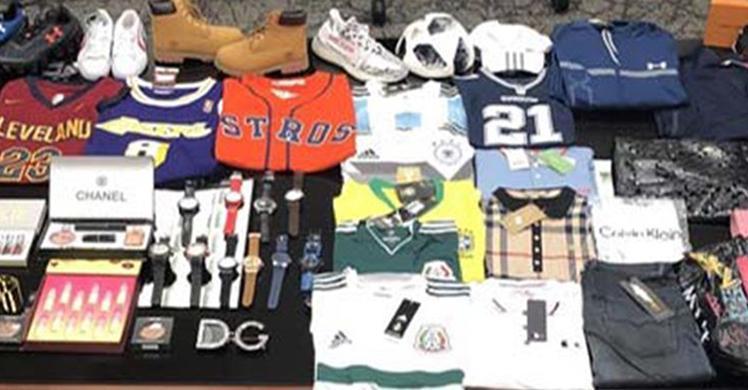 ICE seizes 181,000 counterfeit items worth nearly $43 million in Laredo, Texas
LAREDO, Texas — Special agents with U.S. Immigration and Customs Enforcement's (ICE) Homeland Security Investigation (HSI) on Tuesday completed counting the counterfeit items seized in Laredo in June which totaled more than 181,000 items. HSI estimates the street value of the seized items at more than $42.9 million, which is HSI's largest counterfeit seizure in Laredo.
In mid-June 2018, HSI special agents conducted surveillance over a three-day period and observed boxes containing suspected counterfeit merchandise being moved. During the enforcement action, HSI discovered that all shipping labels on all the boxes depicted fictitious delivery addresses in Laredo. HSI confirmed the boxes contained counterfeit merchandise and detained the boxes.
HSI eventually seized 795 boxes containing 181,615 pieces of trademark-infringed merchandise, which included many counterfeited brands, such as the following names: Adidas, Apple, Calvin Klein, Casio, Chanel, Coach, Diesel, Fendi, Gucci, Hugo Boss, LG, Luis Vuitton, Mark Kors, Nike, Rolex, Samsung, Sony, Under Armor, Yves St. Laurent; and DC and Marvel Comics.
https://www.ice.gov/news/releases/ice-seizes-181000-counterfeit-items-worth-nearly-43-million-laredo-texas
Related Posts
Five men have been arrested in North London, on suspicion of smuggling tobacco...