Is Your Brand Prepared to Battle the Online Counterfeiters?
As we enter 2014, retailers can hang their hats on these two pegs: consumers will continue to flock to shop in digital channels and consumers love a good deal. However, the increasing abundance of savvy online counterfeiters targeting deal seekers is creating major challenges for brands. It's important to understand the dynamics of deals and fakes across the ecommerce ecosystem in order to prevent brand hackers from stealing your revenue and customers.  Apparel and fashion brands are a prime target for counterfeiters and the digital world gives them more ways to appear legitimate that are beyond the reach of street-corner sellers. E-commerce sites hawking fake products appear professional, often featuring photography drawn from brands' most recent advertising campaigns, and present consumers with seemingly viable choices.  Counterfeiters are smart about pricing, too, tricking consumers by pricing counterfeit goods to appear as legitimate goods on sale. Counterfeit goods are often offered at 25 percent to 50 percent discounts, comparable to end-of-season or 'blowout' sale rates. Because these prices are plausible, bargain hunters are that much more likely to snatch up counterfeit goods thinking they've just found an incredible deal.
Related Posts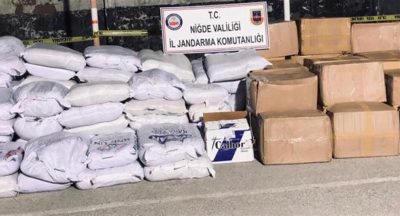 Turkish security forces have seized some 3.6 tons of contraband tobacco in...