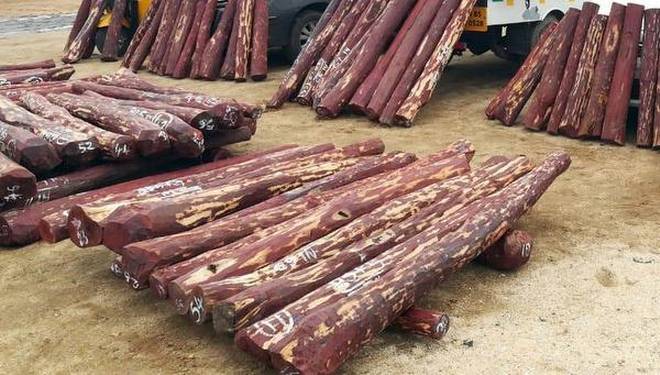 Operation Thunder 2020: India Customs intercepts 18 tonnes red sandalwood
The India Customs intercepted an 18-tonne shipment of red sandalwood destined for the United Arab Emirates, during a month-long "Operation Thunder 2020", coordinated by the Interpol and the World Customs Organisation, which involved law enforcement agencies in 103 countries.
The operation against environmental crime was held from September 14 to October 11. It resulted in large seizures of protected wildlife and forestry specimens and products, triggering arrests and investigations worldwide, said the Interpol. "Focusing on pre-identified routes and hotspots, 'Operation Thunder 2020' resulted in more than 2,000 seizures of wildlife and forestry products. In total, 699 offenders were apprehended and at least one Interpol Red Notice has already been requested based on information gained during the operation. Further arrests and prosecutions are anticipated as ongoing global investigations progress," it said.
The participating countries focused mainly on the species protected under the Convention on International Trade in Endangered Species of Wild Fauna and Flora. Mexican law enforcement rescued an adult female white tiger, a jaguar and a four-month old lion cub in Sinaloa. "In Cameroon, customs officers seized 187 raw elephant tusks from a truck crossing the border from Gabon. In total, 56,200 kg of marine products were seized during Operation Thunder 2020," said the Interpol, adding that the Peruvian police seized a shipment of 11 tonnes of mutilated sharks.
https://www.thehindu.com/news/national/operation-thunder-2020-india-customs-intercepts-18-tonnes-red-sandalwood/article33077893.ece
Related Posts
A man from Bexley is among four people arrested on suspicion of tobacco...