R36.5-M smuggled goods confiscated
The Bureau of Customs (BoC) seized yesterday some R36.5-million smuggled goods such as agricultural products, ukay-ukay, and cigarettes.
The smuggled items were discovered inside seven container vans during spot inspection of alerted shipments at the Manila International Container Port, Customs Commissioner Isidro Lapeña said in a press briefing.
The containers from China which arrived on separate dates at the Manila International Container Port were declared to contain non-woven interlining and women interlining, industrial fur, fresh apple, and household ware.
However, Lapeña confirmed that the actual contents found by the Customs authorities are very different from what was declared. A total of 947 cartons of More cigarettes and 53 cartons of Marvels cigarettes, 950 boxes of Mighty cigarettes, boxes of apples mixed with onion, apples mixed with boxes of fresh carrots, and bales of ukay-ukay mixed with food without Food and Drug Administration (DFA) permit were uncovered.
http://tempo.com.ph/2018/05/25/r36-5-m-smuggled-goods-confiscated/
Related Posts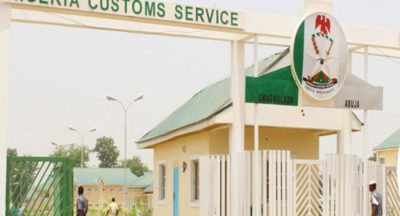 Joseph Attah, Public Relations Officer, Nigeria Customs Service (NCS) says the...