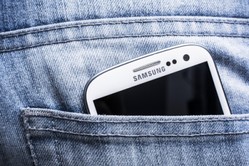 Armed thieves in Brazil steal Samsung tablets, phones
Samsung phone in pocketBrazil suffered one the largest electronics thefts in its history over the weekend when armed robbers raided a Samsung factory in São Paulo state. Around 20 thieves with automatic weapons raided the facility in Campinas during the evening of July 6, subduing some 200 workers and guards in a four-and-a-half-hour ordeal. The raiders kidnapped eight employees and used their identity documents to gain access to the plant. Two workers – both security staff – were held as hostages during the raid though thankfully no-one was injured.
http://www.securingindustry.com/electronics-and-industrial/armed-thieves-in-brazil-steal-samsung-tablets-phones/s105/a2079/#.U8TOKpSSxCg
Related Posts
The Food and Drug Administration announced Wednesday that U.S. partners in Ghana...