Boss dubbed 'Loadsamoney' faces going bust after his family were ordered to pay back £400,000 from their counterfeit clothing racket
The jailed drug-dealing boss of a clothing racket faces ruin after he and his family were ordered to pay back more than £400,000 of the profits of their criminal enterprises. Mohammed Basit Chaudhry, 26, was convicted last year of running a counterfeit clothing racket and trafficking cannabis after raids on his family home in Chorlton, Manchester.  He had boasted of his ill-gotten gains by posing for a picture waving a thick wad of £10 notes, prompting comparisons with the 'Loadsamoney' character played by Harry Enfield in the Eighties.
http://www.dailymail.co.uk/news/article-2554110/Boss-dubbed-Loadsamoney-faces-going-bust-family-ordered-pay-400-000-counterfeit-clothing-racket.html
Related Posts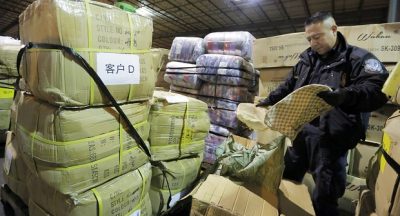 Torquay – The close proximity of the English Channel to South Devon has made it...