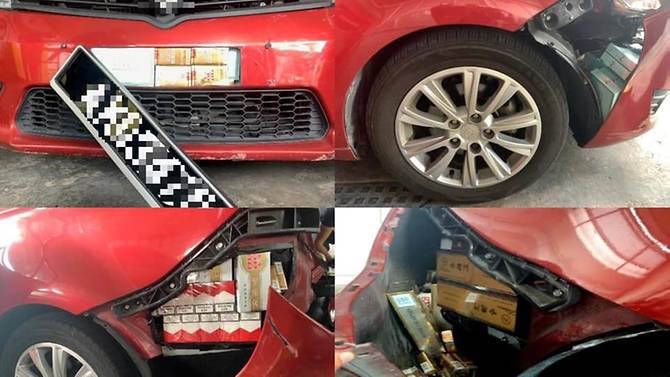 Cigarettes found hidden in modified car compartments at Woodlands Checkpoint
SINGAPORE: Immigration and Checkpoints Authority (ICA) officers uncovered three separate attempts to smuggle contraband cigarettes into Singapore during the last two weeks of the year.
In total, more than 600 cartons and 1,600 packets of cigarettes were seized by officers at the Woodlands Checkpoint.
Last week, two smuggling attempts were foiled when officers discovered 556 cartons and 1,458 packets of cigarettes in various modified compartments of two Malaysia-registered cars, ICA said in a Facebook post on Tuesday (Dec 31). In the first case on Dec 29, officers found an assortment of duty-unpaid cigarettes hidden within the modified dashboard, floorboard, fuel tank and rear bumper of the vehicle
On Dec 27, more contraband cigarettes were confiscated after officers found the items stashed within the front and rear bumpers, modified dashboard, gear compartment and side panels of another car.
https://www.channelnewsasia.com/news/singapore/ica-woodlands-checkpoint-cigarettes-smuggle-modified-cars-12225184
Related Posts
In a case U.S. officials say is the first of its kind, a Chinese businessman...