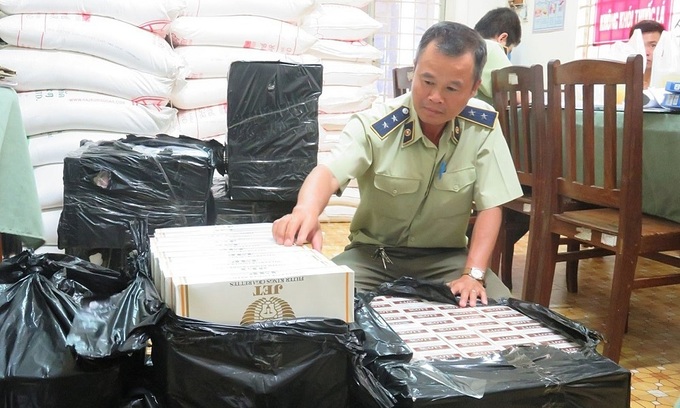 Cigarette smuggling costs Vietnam hundreds of millions of dollars
Vietnam loses tens of trillions of dong (VND10 trillion = $432 million) a year due to cigarette smuggling, a long-standing problem.
Nguyen Triet, General Secretary of Vietnam Tobacco Association, estimates that just one percent of smuggled cigarettes are caught.
The value of smuggled cigarettes accounts for up to 25 percent of the market each year, he said.
In the last five years, an average of 700 million packs of cigarettes a year have passed through Vietnam's borders with China, Laos and Cambodia.
Long An Province in the Mekong Delta remains a "hot" location for cigarette smuggling, officials say. Almost 900 cases have been discovered in the first 10 months this year and 1.57 million cigarette packs confiscated, according to the National Steering Committee on Combating Smuggling, Commercial Fraud and Counterfeit Goods.
Pham Duc Chinh, Head of Long An Province's Market Surveillance Department, said that because the province's border with Cambodia was very porous, controlling smuggling is difficult.
https://e.vnexpress.net/news/business/industries/cigarette-smuggling-costs-vietnam-hundreds-of-millions-of-dollars-4032324.html
Related Posts
Dubai: Abrupt tax spikes on tobacco products will stimulate the illicit...