9 Turkmenistan Women Arrested For Smuggling At Delhi Airport: Police
New Delhi: In a major operation, nine women from Turkmenistan were arrested for allegedly trying to smuggle out of the country foreign currencies worth around Rs 3.83 crore at Delhi airport, officials said on Monday.
A total of 105 people were intercepted — 59 women and 46 men — when they were travelling to Turkmenistan on Wednesday, they said.
"Personal and baggage search of the 88 passengers and rummaging of flight resulted in the recovery of foreign currency $7,98,840 equivalent to Rs 5.64 crore," a statement issued by the customs department said. Further, 48 passengers were released along with their foreign currency, as they were carrying foreign currency under permissible limit, it said.
Furthermore, remaining foreign currency — $5,41,961, equivalent to Rs 3.83 crore was seized under the relevant provisions of the Customs Act, the statement said. Out of the remaining 40 passengers, nine of them — all women were placed under arrest, the officials said, quoting the statement.
https://www.ndtv.com/delhi-news/9-turkmenistan-women-arrested-for-smuggling-4-crores-in-foreign-currency-at-delhi-airport-2153396
Related Posts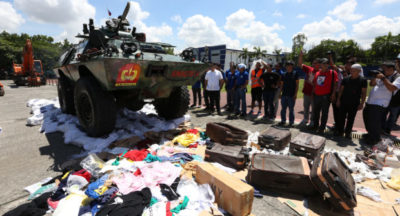 Authorities on Thursday destroyed some P11.8-million worth of counterfeit goods,...