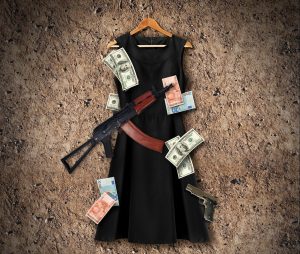 Does Counterfeit Fashion Fund Terrorism?
According to fashion writers and historians, every woman's wardrobe should contain that versatile "little black dress" (LBD). The origins of the phrase and the simple, yet elegant, black cocktail dress predate that worn by Audrey Hepburn as Holly Golightly in the iconic 1960s film Breakfast at Tiffany's and stretch back in the annals of time to the designs of Coco Chanel and Jean Patou in the 1920s.
As a staple fashion icon, it can be worn with everything to go to anywhere-from the dressy to the dress down. But it can also mean "dressed to kill," if the LBD in question is a fake? If the sale of such counterfeit fashion was funding another kind of black icon—the black flag of ISIS, or so-called Islamic State.
Would every woman still covet one if the black were tinged red with the blood of innocent civilians or martyred jihadists on the streets of Europe? Would the dress still have its lure and appeal?
There has long been suspicion that counterfeit fashion goods and their sale in the United States and Europe raise millions for what have become cash-rich terrorist causes across the Middle East. The recently recaptured cities of Mosul and Raqqa have given up their grisly secrets of torture and murder in the name of a cause that ruled its so-called "caliphates" with fear and brutal repression and have been bank-rolled in part through the sale of counterfeit fashion—little black numbers, handbags, fake designer sneakers, DVDs, car parts, alcohol, and tobacco.
Recent research converts the anecdotal into the factual for the first time as undercover journalists and researchers have followed the murderous and lucrative trail of the criminal gangs right to the streets of Europe—Paris, Barcelona, and other major cities—to the markets and curbsides where feckless buyers of fake goods hand over their cash.
They, for their part, have no idea—or simply don't care—that their purchases are putting weapons in the hands of the jihadists who will then turn them on innocent consumers in those same cities where a shopping spree becomes a murderous spree.
https://losspreventionmedia.com/does-counterfeit-fashion-fund-terrorism/
Related Posts
Tanzania Fair Competition (FCC) has warned dishonest traders to refrain from...