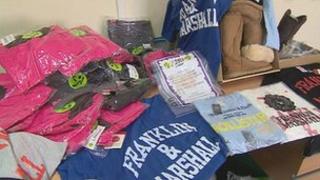 eBay fake clothes trader from Yate given suspended sentence
A man from South Gloucestershire has been given a suspended sentence for selling counterfeit clothing on eBay. When trading standards officers raided 33-year-old Richard Roosbey's home in North Common they found fake Hollister shirts, Ugg goods and Casio watches. Enforcement officers said Roosbey's records showed he sold items worldwide.Roosbey pleaded guilty to offences under the Trade Marks Act 1994 and was sentenced to nine months in jail, suspended for two years. Sentencing him at Bristol Crown Court, Judge Michael Longman said: "You ran a profitable business buying items cheaply and selling them on eBay. "The majority of your customers would have thought they were buying branded goods." 'Big operation' The warrant to search Roosbey's South Gloucestershire home was issued after counterfeit Zumba clothing was sold to a trading standards officer as part of a "test purchase". "We suspect that Mr Roosbey was buying most of his stock, if not all of it, from China," said Neil Derrick, from South Gloucestershire Trading Standards."And, as the judge said, he would have had to have been incredibly naive to have believed that what he was buying was genuine."This was a big operation. When we raided his home he had a year's worth of postal receipts in his possession and it basically tots up to over £3,000 worth of postage in a year."Roosbey was also ordered to carry out 250 hours of unpaid work. A hearing under the Proceeds of Crime Act is also due to take place at the end of March.
http://www.bbc.co.uk/news/uk-england-gloucestershire-21512460 
Related Posts
The word "maple" is often used to sell food products that don't actually contain...