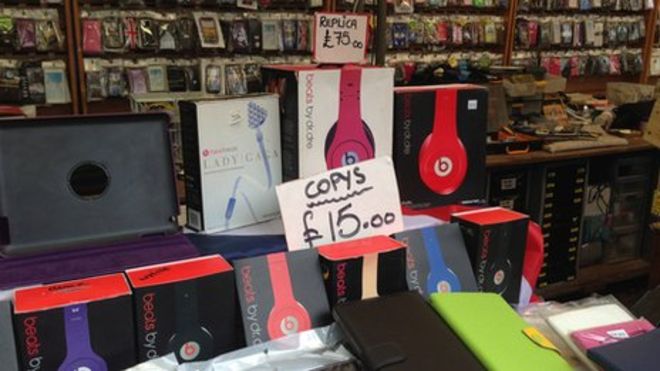 Fake Dr Dre headphones 'one of most seized items'
Some 200,000 pairs have been taken by officers and customs at UK ports. The organisation said it was the first time it had seen the mass production of counterfeit headphones. "It's a trend – Dr Dre is a leading headphone and that's what counterfeiters will go after," Trading Standards' Tony Shore told Radio 4's You and Yours. Beats by Dr Dre are available in six different models that cost between £120 and £500, however you and yours found sets on sale at a market in Cambridge for £15. Trading Standards said it had never seen a problem with counterfeit headphones prior to this particular brand being released. "They're quite sophisticated as a counterfeit item," Mr Shore said. "Somebody is using the brand to make money illegally, which takes money out of future products." Consumers are advised to check the wiring of the headphones and quality of the ear padding to check if it is a fake. Other signs include the cable not being detachable from the headphone. Beats by Dre had no comment on the issue, but offered tips on how to spot a counterfeit including only buying from authorised dealers.  You and Yours asked Brit award-winning record producer Steve Levine to compare the fakes with the genuine product. He noted the packaging was "about two thirds of the size…it's very flimsy". He added music fans were better off spending £15 on headphones without a big brand name for decent quality music, rather than buying a copy. "[The fakes] probably cost about £1 to make – they are such rubbish headphones." There has been a huge growth in the UK headphone market with sales reaching an all-time high. In 2012 more than 11 million pairs were sold – five million more than in 2008. Global market researcher GFK predicts headphones sales are likely to grow further as MP3 players drop in value – meaning it could be the biggest single part of the audio market in Great Britain by the end of 2013.
http://www.bbc.co.uk/news/uk-22469347
Related Posts
The Uttar Pradesh Police''s Special Task Force (STF) on Friday said it has seized...