Gold worth Rs 1.15 crore seized from two passengers at Coimbatore airport
COIMBATORE: The Directorate of Revenue Intelligence (DRI) have seized 2.6kg of gold, worth Rs 1.15 crore, from two passengers at Coimbatore International Airport. The seized gold was in paste form.
A few weeks ago, the DRI personnel received a tip-off regarding gold smuggling that is to be carried out by a gang based in Dubai through the Coimbatore airport. Since then, DRI officials led by deputy director G Satish were on high alert.
A couple of weeks ago, an Air India Express flight — that was operated under 'Vandhe Bharat Mission' — from Dubai landed in Coimbatore. While monitoring the passengers, the personnel questioned a couple, who were natives of Palladam in Tirupur district. The couple had completed their immigration, medical and customs formalities, according to officials.
"As their answers were not convincing and appeared nervous, they were subjected to personal searches. The officials recovered three packets that were stitched on to their inner garments. The packets contained 2.6 kg of gold in paste form," the official said.
https://timesofindia.indiatimes.com/city/coimbatore/gold-worth-rs-1-15-crore-seized-from-two-passengers-at-coimbatore-airport/articleshow/77763805.cms
Related Posts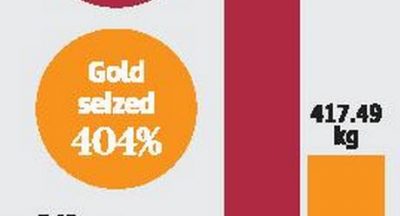 Spurt in seizure of cigarettes and foreign currency too. The State witnessed an...