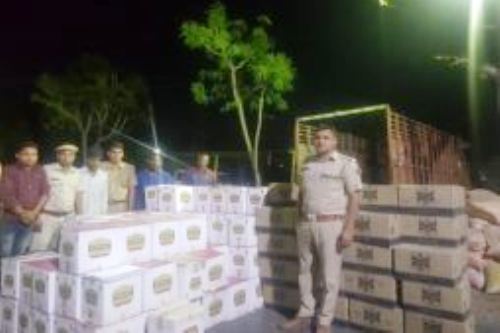 Illegal Liquor Seized Smuggling of Liquor was for distribution in Gujarat during Lok Sabha election campaign activity
An Eicher truck with number UP14 AF 9521 allegedly transporting illegal liquor for distribution in Gujarat during the ongoing Lok Sabha election campaign work  was seized by the police team under supervision of Zawar Mines CI Bharat Yogi today. The liquor was being transported from Haryana. A team from Zawar Mines was acting on messages communicated by an informant after the Udaipur District SP Kailashchandra Bishnoi launched a campaing to block vehicles which would be identified as possible carriers of illegal liquor. 206 bottles worth over Rs 30 Lakhof illegal liquor consisting of Episode Classic Whiskey (121 cartons), Mc Dowells (55 cartons), Royal Challenge (30 cartons) were seized in this exercise which was a big achievement for the team. On receving information, the police team from Zawar Mines laid a road block near Oda village at Kevde ki Naal. An Eicher suspected to be carrying liquor was stopped the driver, Roshanlal Meghwal, resident of Udaipur was asked for papers and license.
https://udaipurtimes.com/illegal-liquor-seized-illegal-smuggling-of-liquor-was-for-distribution-in-gujarat-during-lok-sabha-election-campaign-activity/
Related Posts
The pair, aged 31 and 32, are accused of blackmail and belonging to or professing...