Smuggled cigarettes seized in Cebu
The Bureau of Customs intercepted two containers of smuggled cigarettes with an estimated street value of P88.1million at the port of Cebu.
Acting Cebu District Collector Atty. Charlito Martin R. Mendoza said the smuggled cigarettes from China arrived at the Port of Cebu in separate shipments declared to contain umbrella and various home furniture.
The shipments were consigned to GRR Trading—the same importer whose recent shipments of misdeclared articles were previously seized by the Port after being found to contain master cases of cigarettes, he said.
Following an information received by the bureau, customs examiners conducted physical examination of the shipments together with representatives from CIIS, ESS, XIP, Philippine Drug Enforcement Agency, Philippine Coast Guard, and Chamber of Customs Brokers Inc.
"The first container yielded 851 master cases of "Mighty" cigarettes while 911 master cases of "Mighty", "Fort", and "Marvel" cigarettes were found inside the second container estimated to have a total street value of P88.1 Million," the BoC official said.
https://manilastandard.net/news/national/333309/smuggled-cigarettes-seized-in-cebu.html
Related Posts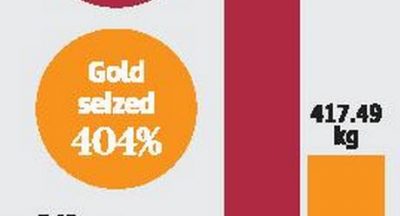 Spurt in seizure of cigarettes and foreign currency too. The State witnessed an...