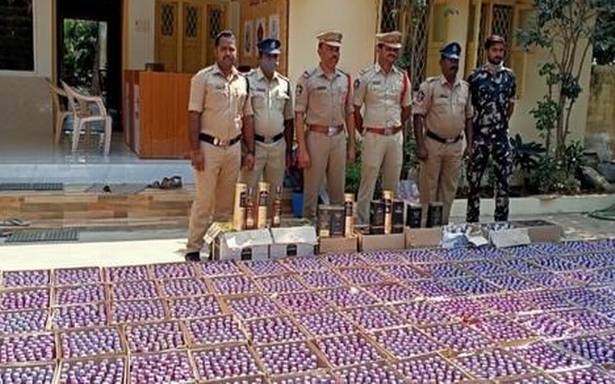 30,000 liquor bottles seized in second phase of polling
In a joint operation, the Special Enforcement Bureau (SEB), Excise and Law and Order police conducted raids across the State and seized over 30,000 liquor bottles, worth ₹14.5 lakh, being transported to villages in a bid to woo voters during the second phase of polling.
Police teams arrested nine persons in different cases and seized a tipper, one tractor, a car and three two-wheelers, used for smuggling, said SEB Commissioner Vijeet Brijlal.
West Godavari Superintendent of Police (SP) K. Narayan Naik said the police intercepted a tractor at Lingagudem border checkpost and seized 9,696 bottles of Non-Duty Paid Liquor (NDPL), worth ₹12 lakh, being transported from Telangana State. Two smugglers, along with the vehicle and the stocks have been seized, said SEB ASP C. Jayarama Raju.
https://crimetodaynews.com/30000-liquor-bottles-seized-in-second-phase-of-polling/
Related Posts
Muscat: More than 26,255 cartons of illegal cigarettes have been confiscated in...