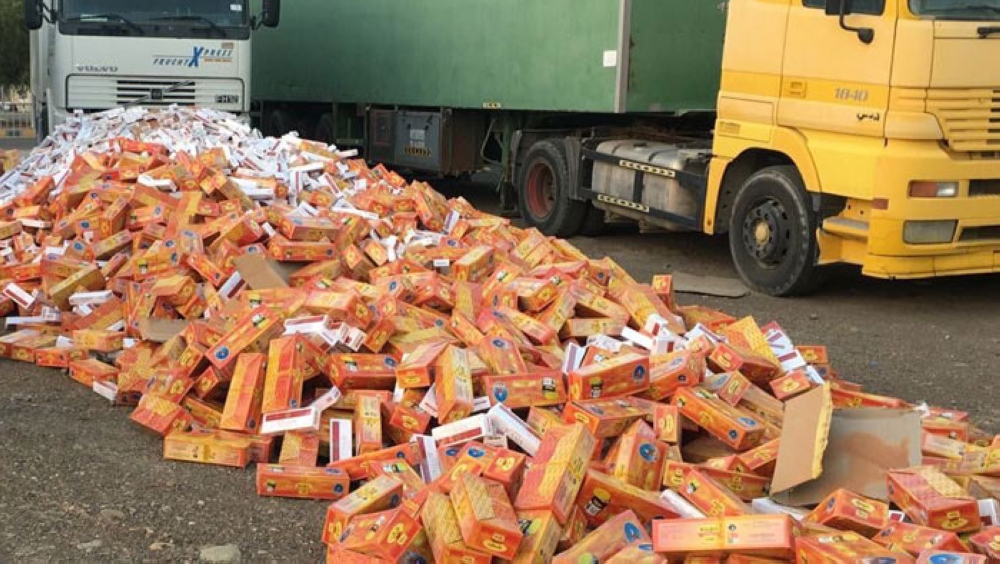 Muscat: Oman Customs busted smugglers attempting to bring in 10,200 packets of illegal cigarettes and 600 kilograms of chewing tobacco into the country by hiding them underneath a load of sand on a truck.
Oman Customs said in its statement: "The Wadi Al Jizi border customs foiled a unique smuggling operation of 10,200 packets of forbidden cigarettes and 600 kilograms of chewing tobacco, where the suspect has professionally hidden them in a truck loaded with sand."
Smugglers have been caught trying to bring contraband and illegal substances into the country in a variety of techniques, with customs officers arresting an expatriate at Muscat airport earlier this year, who was carrying 8.7 kg of marijuana and 1,285 narcotic tablets that were covered with carbon paper.
http://timesofoman.com/article/136307
Lear More
Muscat: More than 26,255 cartons of illegal cigarettes have been confiscated in Oman according to reports by Oman Customs.
At the Al Wujaja land borders, Customs confiscated 25,580 cartons of illegal cigarettes during a smuggling attempt.
In the Seeb area, 675 cartons of illegal cigarettes and 66 kgs of loose tobacco were seized from a worker's house by the Department of Investigation and Risk Assessment.
A significant amount of drugs and psychotropics have also been confiscated at two of Oman's airports, according to a statement from Oman Customs.
"Customs at Muscat and Salalah International Airport foil smuggling operations for amounts of drugs and psychotropics," the statement said.
http://timesofoman.com/article/112559/Oman/Tobacco-drugs-smuggling-bid-foiled-by-Oman-Customs
Lear More