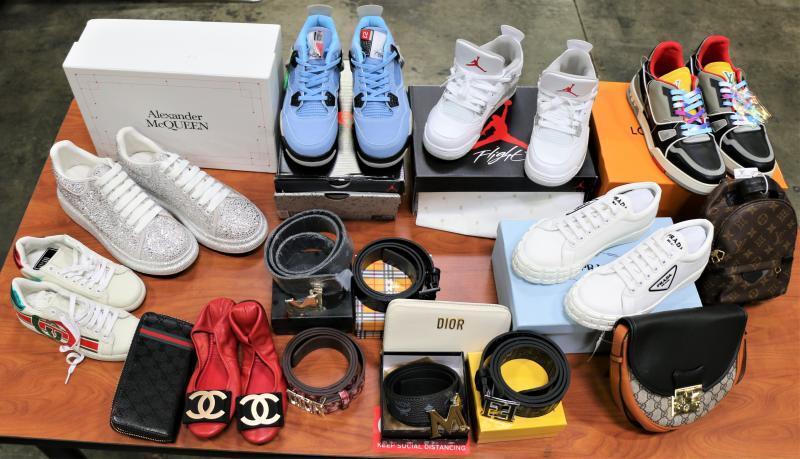 CBP Foils Attempts to Smuggle Over $53 Million Worth of Fake Designer Products
LOS ANGELES— U.S. Customs and Border Protection (CBP) officers assigned to the Los Angeles/Long Beach Seaport in coordination with import specialists from the Consumer Products and Mass Merchandising (CPMM) and Apparel, Footwear and Textiles (AFT) Centers of Excellence and Expertise seized 39,243 counterfeit designer products arriving in two containerized cargo shipments from China.
CBP partnered with U.S. Homeland Security Investigations (HSI) special agents to seize the first shipment on July 19, and a second one on July 30, in independent smuggling attempts.
CBP officers discovered sandals, handbags, sneakers, hats, wallets, backpacks, mobile phone cases, and belts bearing numerous registered and recorded trademarks, such as Gucci, Dior, Chanel, Yves Saint Laurent, Louis Vuitton, Prada, Yeezy, Versace, Fendi, Balenciaga, Burberry, Chrome Hearts, Nike, Air Jordan, and Ferragamo.
If genuine, the seized merchandise would have had a combined estimated manufacturer's suggested retail price (MSRP) of $53,745,802.
https://www.cbp.gov/newsroom/local-media-release/cbp-foils-attempts-smuggle-over-53-million-worth-fake-designer-products
Related Posts
Consumer Protection Department (CPD) has launched a massive crackdown on...