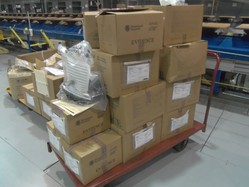 In brief: Yet more seizures in NFL fakes crackdown
Over the last week, federal agents in the US have seized $1.5m worth of counterfeit NFL merchandise at a DHL air cargo facility in Cincinnati.  The seizures are the latest to be announced as part of Operation Team Player, which has been carried out by the Customs and Border Protection and Immigration and Customs Enforcement's (ICE)  and resulted in more than $21.6m in seizures leading up to last Sunday's  Super Bowl last week.  "Working with our officers, agents and import specialists, CBP prevented the influx of more than 33,000 counterfeit NFL items … from entering our country," commented Augustine Moore, the agency's acting director of field operations in Chicago.
http://www.securingindustry.com/clothing-and-accessories/in-brief-yet-more-seizures-in-nfl-fakes-crackdown/s107/a1957/
Related Posts
The sorry state of affairs in the State Health Department came to light on Friday...