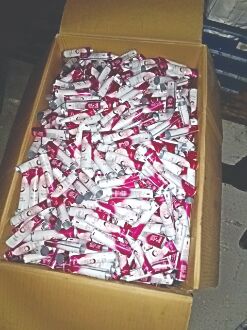 In last 4.5 years, over 500 cases in Delhi for producing, selling fake products.
New Delhi: In the last four and a half years, the Delhi Police have registered over 500 cases against various individuals for selling fake products starting from eatables and water to costly watches, medicines and medical equipment being sold in the Capital. Police said they had arrested more than 530 people since 2016 in these cases.
According to the Delhi Police's data on Copyright Act cases, accessed by Millennium Post, 47 cases have been registered this year till August in relation to selling fake products. The total number of such cases last year was 148; over 80 in 2018; around 115 in 2017 and 159 in 2016.
An official from one of the district investigation units (DIU) said that the main reason behind the fake products is the pure commercial benefit. "For the production of a genuine product, it requires a set of rules and regulations, you have to take various kinds of permission and also after the production it is being sold with tax included. But for production of fake products no such things required. The fake products are prepared and designed to make it look like the original and consumers usually cannot distinguish between the two," the official said.
After registering the cases, a detailed investigation was done and in many cases, raids were conducted which led to the arrest of over 530 people (2016-145, 2017-113, 2018-over 45, 2019-175, 2020- 59).
http://www.millenniumpost.in/delhi/in-last-45-years-over-500-cases-in-delhi-for-producing-selling-fake-products-418889?infinitescroll=1
Related Posts
For every 10 computers in Thailand, eight are running counterfeit software...