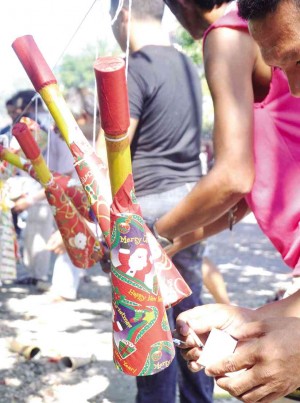 Law banning 'crackers seen boost to smuggling
BOCAUE, Bulacan—As expected, the industry that profits from fireworks and firecrackers has objected to a government plan to ban their sale and use. Celso Cruz, president emeritus of the Philippine Pyrotechnic Manufacturers and Dealers Association Inc. (PPMDAI), said on Friday the ban would only empower illicit fireworks and firecracker traders. He said the prohibition would restore the underground market that thrived before the government passed Republic Act No. 7183 in 1992 to regulate the manufacture and sale of firecrackers and other pyrotechnic devices. He also said people who could no longer use firecrackers may resort to firing their guns during the New Year's Eve revelry, increasing cases of indiscriminate firing. Two children in the Ilocos region were killed by stray bullets on Dec. 31, 2013. Cruz said the government had banned the sale of piccolo and the  fireworks trade centered in Bulacan province had abided by that rule. But piccolo is smuggled from China and has been distributed widely despite the law, he said.
This was a problem plaguing the Bureau of Customs, he said, but the campaign against firecrackers was attributing firecracker injuries to the legitimate fireworks businesses in Bulacan.  Bocaue has been host to 300 fireworks stalls that operate on the days running up to New Year's Day. The stalls also cater to other occasions all year round, from weddings to fiestas.
http://newsinfo.inquirer.net/557305/law-banning-crackers-seen-boost-to-smuggling
Related Posts
What's worse than buying a fake iPad from Walmart? Having the store tell you...