Schaeffler destroys 26 tons of counterfeit rolling bearings
Rolling bearings of various types and sizes are conveyed by the gripper arm of an excavator into a scrap press with a loud crash. The bearings leave the press chopped and broken into pieces or so badly damaged that they are rendered unusable. Large-size bearings with an outside diameter of more than one meter, which are even too big for the scrap press, are destroyed with a cutting torch. All these bearings are counterfeit products marked with the INA and FAG brand, which were confiscated in raids. The objective of this operation is to make the bearings unusable. After a spectacular operation in 2007, in which around 40 tons of counterfeit bearings were destroyed at the Schaeffler company site in Schweinfurt, and numerous other operations to destroy counterfeit goods worldwide, around 26 tons of counterfeit bearings with a value of more than one million euros were destroyed this time at the premises of INTERSEROH Franken Rohstoff GmbH in Schweinfurt. A large proportion of the counterfeit products originate from raids at bearing distributors in Europe, for example, in Italy and Great Britain. But some of the counterfeit bearings are also from Germany. "Brand and product piracy is not a phenomenon that is limited to China or South East Europe. It also takes place right on our doorstep", says Ingrid Bichelmeir-Böhn, leader of the Global Brand Protection Team at Schaeffler.
Related Posts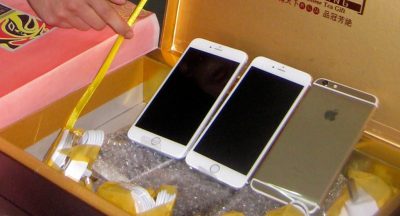 HONG KONG — When Apple's latest iPhones went on sale this month in Hong Kong,...