Smuggled khair wood seized from Chikhli.
SURAT: The forest officials in Navsari's Chikhli taluka seized smuggled khair (catechu) wood worth Rs 70000 hidden somewhere in the farm field. Official sources said the khair wood is in huge demand across the country for its use to make katha, a main ingredient in the paan and other tobacco and non-tobacco products like paan-masala etc. The forest areas in south Gujarat including Surat, Navsari, Valsad and Dangs have khair woods in abundant quantity. Based on the tip-off by the locals, who told officials about the large-scale smuggling of khair wood going on in the area, forest officials in Chikhli raided the Limda Falia at Kangwai village in Chikhli and seized around four tones of khair wood lying in the farm owned by one Mohan Dhanjibhai. Sources said that the Kangwai village has been infamous for khair wood smuggling as the number of seizures have increased in the last couple of months. "We have been keeping a close vigil on Kangwai village and its residents who are involved in khair wood smuggling from the past couple of months. This is the fourth incident of khair wood seizure reported from the village" said a forest officer.
http://articles.timesofindia.indiatimes.com/2013-12-14/surat/45189327_1_khair-forest-officials-large-scale-smuggling
Related Posts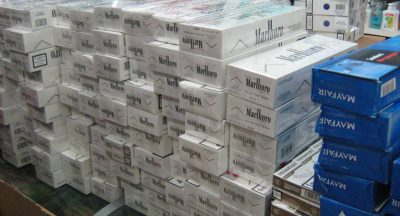 An Edgware Road newsagent stashed 97kg of tobacco and 92,000 black market...