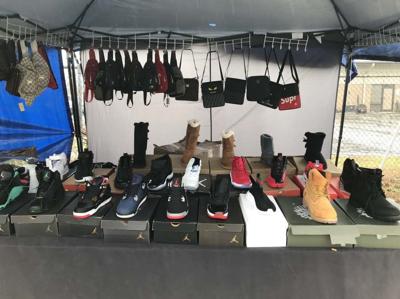 $460,000 in fake Air Jordans, UGGs, Rolexes and more seized in Greensboro; five arrested
GREENSBORO — State agents seized $460,000 worth of counterfeit products — Air Jordan shoes, UGG boots, Rolex watches, Gucci handbags and pirated CDs and DVDs — at a Greensboro flea market Saturday, according to the N.C. Department of the Secretary of State.
The estimated retail value is the amount the genuine trademarked items would sell for, the agency said Thursday in a news release.
Agents with the N.C. Anti-Counterfeiting Task Force discovered the knock-off designer apparel and accessories at The Flea flea market at 3220 N. O'Henry Blvd. in Greensboro, state officials said. Homeland Security Investigations and the Greensboro Police Department helped with the enforcement sweep.
Five people were charged with trademark violations. Ramon Vararro Poteat, 60, of Browns Summit, and Alhage Mohammed Secka, 51, of Raleigh were each charged with one count of felony criminal use of a counterfeit trademark. Three other flea market vendors were charged with misdemeanor trademark violations: Evette Delynn Daouda, 53, of Greensboro; Felicia Dianne Able, 46, of Greensboro; and Joey Ray Willis, 39, of Danville, Va.
https://www.journalnow.com/news/crime/in-fake-air-jordans-uggs-rolexes-and-more-seized-in/article_b440a624-5822-5668-8597-05f13dcbda8c.html
Related Posts
Customs officials at the Mangaluru International Airport (MIA) have seized gold...