Awareness Programme on Preventive Strategies to Combat Counterfeiting and Smuggling
6 December 2022| L. N. Mishra Institute of Economic Development & Social Change, Patna
The unrelenting growth of illicit trade through Counterfeiting and Smuggling is a global problem of enormous scale, impacting virtually every industry sector around the world. Illicit trade in counterfeit and smuggled goods dampens the economy in multidimensional ways and the problem has been aggravated by globalization and increased mobility. 
In order to spread awareness on the issue of illicit trade, FICCI CASCADE (Committee Against Smuggling and Counterfeiting Activities Destroying the Economy) in association with the Government of Bihar is organizing an awareness programme on 'Preventive Strategies to Combat Counterfeiting and Smuggling' on 6th December 2022 at L. N. Mishra Institute of Economic Development & Social Change, Patna, Bihar.
Related Posts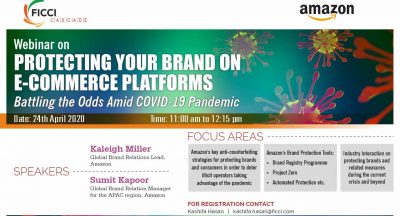 24/04/2020 The COVID-19 pandemic has heightened the dangers posed by illicit...