7th Edition International Conference Mascrade 2021
21-22 January, 2021
Virtual Edition
Impact of Counterfeiting and Smuggling on Personal Health and Safety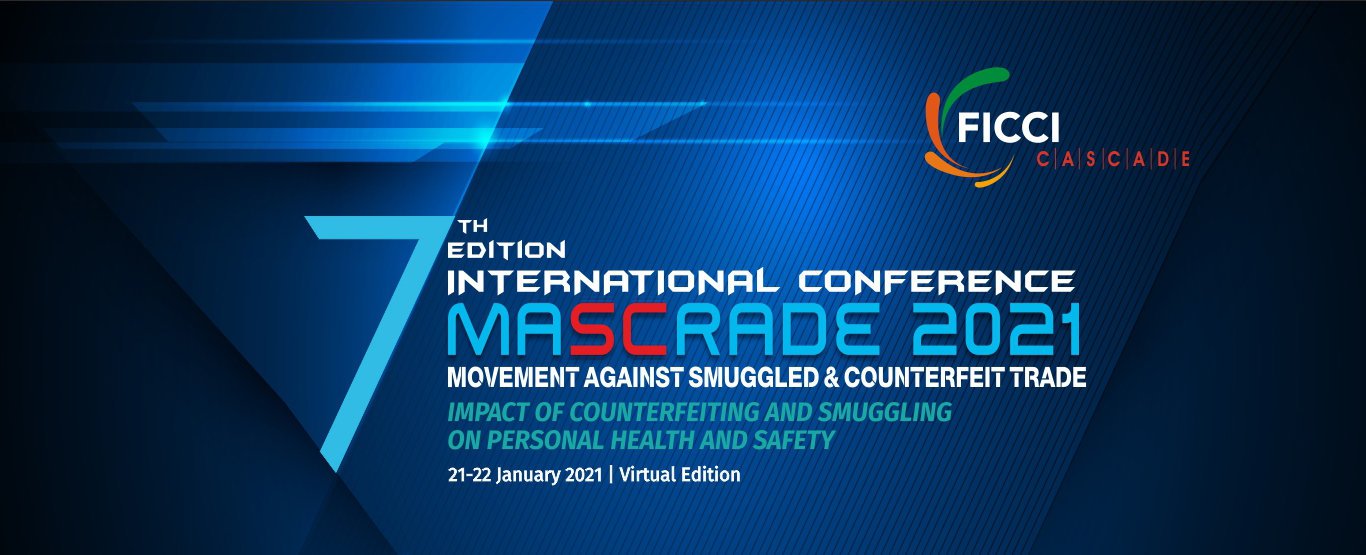 It has long been known that illicit trade in terms of counterfeiting and smuggling makes up a vast 'global businesses', representing a multibillion-dollar illegal industry that creates a significant drain on the world economy. Further, it negatively impacts legitimate economic activity and facilitates an underground economy and organized crime that deprives governments of revenues for vital public services, forces higher burdens on taxpayers, dislocates hundreds of thousands of legitimate jobs and exposes consumers to dangerous and ineffective products.
The COVID-19 pandemic has called for greater focus on addressing the growing hazards of counterfeiting and smuggling which are severely impacting the economy and endangering lives of consumers. While the government is continuously intensifying efforts to combat the spread of the coronavirus by enacting various measures to support public health systems, safeguard the economy and ensure the safety of its citizens, illegal operators are taking advantage of the pandemic by providing illicit alternatives of items, both online and offline.
Even before the onset of the pandemic, OECD in 2019 stated that trade in counterfeits and pirated goods has risen steadily over the last few years and stood at 3.3% of global trade. Unfortunately, the pandemic not only complicated it but has made matters worse with estimates from The World Economic Forum stating that over US$2.2 trillion (3% of global GDP) would be lost due to illicit trade leakages in 2020.
The current environment most certainly presented a new opportunity for all stakeholders to tackle this long-standing problem. It is with the above background that FICCI's Committee Against Smuggling and Counterfeiting Activities Destroying the Economy (CASCADE) organized the 7th edition of its annual programme MASCRADE (Movement Against Smuggled and Counterfeit Trade) 2021 on January 21-22, with the theme 'Impact of Counterfeiting and Smuggling on Personal Health and Safety'. MASCRADE 2021 focused on addressing the debilitating impact of counterfeiting and smuggling on global economies. This conference was a conscious and well directed attempt to bring in the best minds from the fields of policy making, law, brand protection, industry, enforcement agencies and media to find a holistic and permanent solution to the problem of counterfeiting and smuggling, which if left unchecked, threatens to subvert the economic and societal stability of countries across the world.
Dr. Harsh Vardhan, Union Minister of Health and Family Welfare, inaugurating the 7th Edition of MASCRADE 2021, emphasized the challenges of COVID 19 pandemic and illegal operators of drugs. He stated, "Amid the chaos created by the Covid-19 pandemic and the various policy responses designed to contain its spread, illicit players have used the pandemic as an opportunity to increase their nefarious activities, causing significant damage to the economy of the nation, and health and safety of people worldwide."
Dr. Harsh Vardhan also called for greater focus on coming together to address the growing hazards of counterfeiting and smuggling. In this regard, he said, "Businesses and industry must come together and partner with the government to become a greater force in fighting this growing threat with the ultimate goal of keeping consumers safe. The methods by which spurious, misbranded and adulterated drugs enter the distribution channel have become increasingly complex. Weak points in the distribution processes of pharmaceutical products provide an avenue for entry of such products in the supply chain. This is an issue where industry players can and must play an active role to help identify and plug these loopholes," he said.
Mr. Kunio Mikuriya, Secretary General, World Customs Organization, in his keynote address said, "While the movement of people has been severely restricted at the borders, customs has been working tirelessly to ensure the smooth cross border movement of essential goods including medicines and medical supplies. On the other hand, we are mindful that criminal organizations could exploit the current pandemic to obtain illegal profits. Hence, Customs-Business Partnership in addressing together the scourge of counterfeiting and smuggling is imperative."
In a special address, Hon'ble Justice Manmohan Sarin, Former Lokayukta, NCT of Delhi, Chief Justice, High Court of Jammu & Kashmir, Judge, High Court of Delhi and Think Tank Member, FICCI CASCADE, highlighted the harmful effects of smuggled and counterfeit goods, and elaborated on the importance to introduce and enhance laws related to such crimes and create the requisite deterrents to dissuade those indulging in it.
Mr. Uday Shankar, President, FICCI welcomed the dignitaries and complimenting the government's call for Vocal for Local said, "an 'Atmanirbhar Bharat' will not only increase share of manufacturing in the country's GDP, create job opportunities in India and drive home the value of indigenously produced goods, but will also build 'Brand India' and deter cross border illicit trade.
The perpetrators of illicit trade have made deep inroads into popular pandemic products like sanitizers, face masks, PPE Kits, medicine, disinfectants, toiletries and much more. The fake FMCG market is growing at an annual rate of 44.4% which is higher than the growth rate of the overall FMCG market. Moreover, 3 lakh crore of FMCG products circulated in India are counterfeit. Highlighting this challenge, Mr. Anil Rajput, Chairman, FICCI CASCADE said, "It is a fact that the Industry is reeling under the impact of the COVID pandemic with some sectors expected to make faster recovery. While for many others, it will be a slow and painful way back to the pre-COVID levels." Drawing similarities between illicit trade and the COVID pandemic, Mr. Rajput said, "COVID virus and illicit trade have a lot in common as both cause immense economic, social and individual distress. While we are at a point of countering the virus, it is illicit trade that has and continues to damage humankind in a massive manner".
The two-day long event, which was held virtually on 21-22 January:
Looked at the economic consequences of counterfeiting and smuggling and the policies needed to deter this activity.
Contributed to an integrated vision of security and public safety.
Deepened the understanding of "grey markets" for smuggled and counterfeit goods which has seen a surge during COVID times.
Assessed the impact of the growing illicit trade worldwide and tried to provide practical recommendations and effective strategies to mitigate this challenge especially in a post COVID era.
Various issues such as Illicit trade amid public health crisis; placing public health and safety at the heart of the fight against smuggling and counterfeiting; and quarantining counterfeiting and smuggling to accelerate action against criminals, among others, were deliberated in the two-day dialogue. The need for a systematic treatment and persuasion by global community for stronger enforcement to combat this menace was reiterated by a host of notable international speakers from World Customs Organization, INTERPOL, OECD, TRACIT, UKIPO, Italian Law Enforcement Agency, senior enforcement officers from the field and captains from the industry.
Related Posts
14/06/2019| Police Training College, Vizianagaram Illicit trading practices...