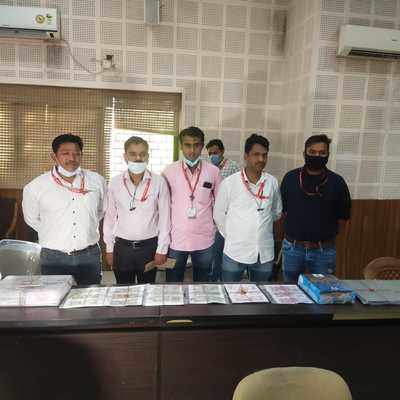 INDORE: Police on Wednesday arrested a man and seized fake currency notes with face value of Rs 2.53 lakh from his possession.
The accused had printed the notes in denominations of Rs 100, 500 and 2,000 on a colour printer and had circulated fake currency with face value of around Rs 20,000 among unsuspecting shopkeepers in the rural areas.
Police got a tip-off about a man attempting to circulate fake currency in a local vegetable market following which a trap was laid, DIG Manish Kapooria told reporters.
Police arrested Rajratan Tayade, 25, a resident of Azaad Nagar area and seized a bag containing the fake currency.
Tayade told police that he had scanned the original currency and printed them on A4 size papers at his rented room. These were cut to the size of currency notes, before circulation.
The accused was employed at a club, but had lost his job during Covid-19 lockdown, Kapooria said adding he had got the idea of printing the currency notes from online videos.
The accused has circulated fake currency with face value of around Rs 10,000 to Rs 20,000 – mostly in Rs 100 denominations — in the rural markets.
https://timesofindia.indiatimes.com/city/indore/madhya-pradesh-fake-currency-with-face-value-of-rs-2-53-lakh-seized-in-indore-1-held/articleshow/83371813.cms
Lear More