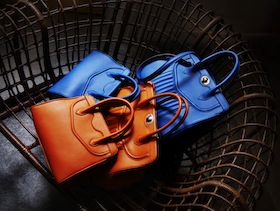 Combating counterfeiting: Encrypted chip adopted by French leather goods brand
The iconic French brand Delage has chosen the Selinko chip solution to protect its luxury leather goods range. The combination of heritage and technological innovation will provide unequalled counterfeiting protection while maintaining the luxurious quality so highly valued by devotees of the brand.  The Selinko chip will provide a unique and universally verifiable identity card for every one of its leather items, in order to provide highly secure and innovative protection against counterfeiting and to develop certain marketing services that can be accessed simply by scanning the product with an NFC-enabled cell phone.  In 2011, Philippe A de Vilmorin decided to revive Delage's prestigious automobile brand by developing a range of leather goods inspired by the exceptional car upholstery of the 1920s and 1930s. By adopting the Selinko solution he brings to the Delage brand the best protection against counterfeiting, a problem facing all luxury brands nowadays. The first Delage bags to be fitted with the Selinko technology are expected to be available by June 2014.
http://www.fashionnetasia.com/en/BusinessResources/6321/Combating_counterfeiting_
Encrypted_chip_adopted_by_French_leather_goods_brand.html
Related Posts
Celebratory drinking claimed four lives in Sultanpur district on Friday four...