Fake Cartier watches and Gucci sunglasses among £500,000 haul seized in Bury New Road raids
Fake Cartier watches, Gucci sunglasses and Moncler jackets were seized in raids in Manchester's "Counterfeit Street".
Police searched premises in Bury New Road, Strangeways, as part of a huge week-long operation in the area and recovered goods worth half a million pounds.
A crackdown into the sale of counterfeit goods and illicit prescription drugs, saw officers from GMP, the North West Regional Organised Crime Unit, Home Office Immigration Enforcement, Trading Standards, and Manchester City Council execute warrants at two properties.
This week a Manchester Evening News investigation revealed how easy it was to buy prescription drugs in the area.
Within two minutes of arriving there a reporter was offered pregabalin, normally used to treat nerve damage, epilepsy, and anxiety, but now rife on the streets and used by rough sleepers and addicts.
https://www.manchestereveningnews.co.uk/news/greater-manchester-news/fake-cartier-watches-gucci-sunglasses-22327765
Related Posts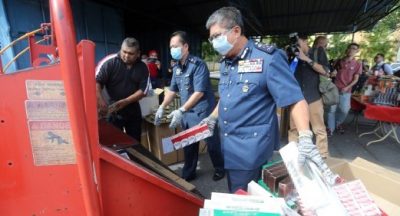 Dengkil -- Over 27 million contraband cigarettes seized by the Federal Territory...