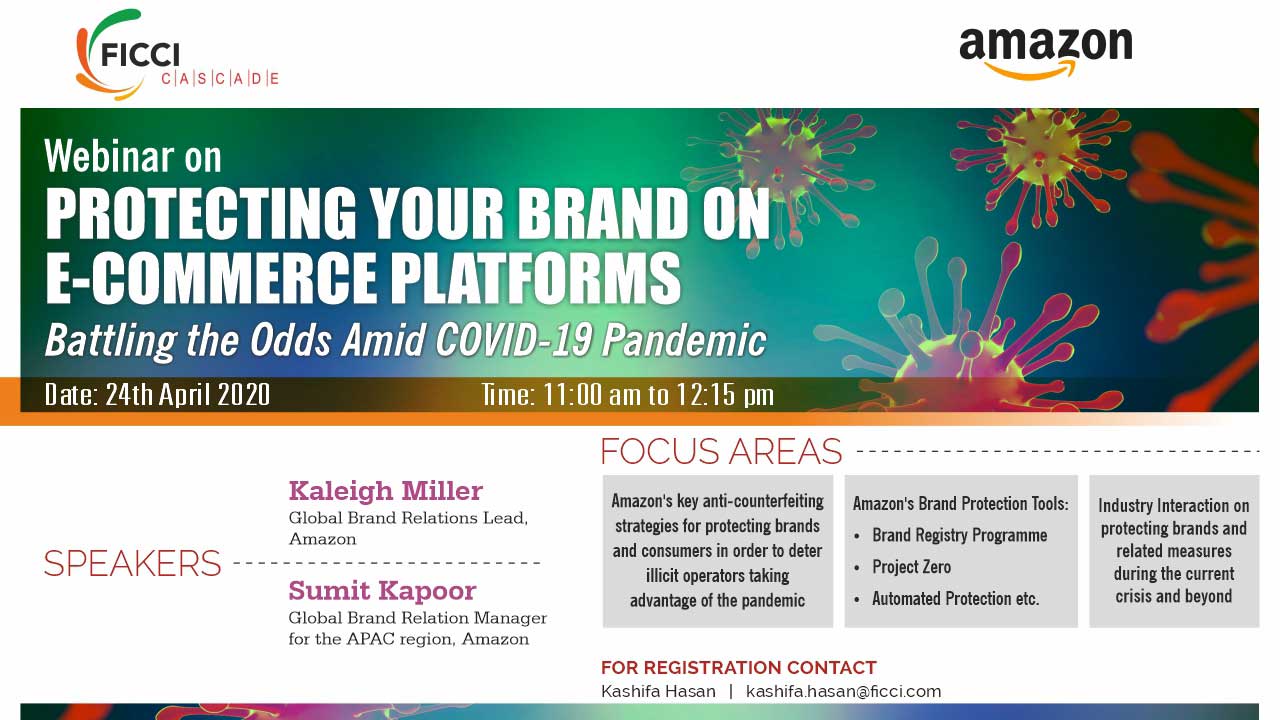 Webinar on 'Protecting your Brand on E-Commerce Platforms – Battling the Odds Amid COVID-19 Pandemic'
24/04/2020
The COVID-19 pandemic has heightened the dangers posed by illicit trade. It calls for greater focus on addressing the growing hazards of counterfeiting and smuggling which are severely impacting the economy and endangering lives of consumers. With the current unpredictable situation, along with the commercial predicament, the need for protecting consumers and brand identities have become more important than ever before.
In the present scenario, with the physical brand protection efforts of industry, enforcement officials and government authorities minimized, winning back control of the online space, which could be hijacked by counterfeiters, has become increasingly important. With a view to deliberate on this issue, FICCI CASCADE organized a Webinar on 'Protecting your Brand on E-Commerce Platforms: Battling the Odds Amid COVID-19 Pandemic' on April 24, 2020.
The webinar had representatives from Amazon and over 70 industry delegates from India and across the globe participating in the deliberations. The focus was on discussing anti-counterfeiting strategies that would not only protect brands and consumers, but also deter illicit operators taking advantage of the pandemic.
Mr. Arun Chawla, Deputy Secretary General, FICCI, while welcoming the participants said that "E-commerce in India has seen a phenomenal growth over the years. From USD 39 billion in 2017, it is projected to rise to USD 200 billion by 2026. While the e-commerce services will grow, this growth will come with a set of challenges. The coronavirus epidemic has presented fresh challenges for the Indian economy, causing severe disruptive impact on both demand and supply side elements. Given the spike in consumer demand and the corresponding shortage of supplies from legitimate sources, it is imperative that businesses take steps to protect consumers from the proliferation of scammers and infringers that seek to take advantage of the crisis".
Mr. P C Jha, Advisor, FICCI CASCADE and Former Chairman, Central Board of Indirect Taxes and Customs, in his address, highlighted that "while the sale of counterfeit and smuggled goods in the physical world is rampant and causing enough grief to industry, consumers and government, the size of illicit trade is estimated to be 3.3% of the global trade. The online counterfeiting ecosystem offers distinctive challenges that require a unique online approach". Mr. Jha also indicated that criminals were seizing on the opportunity by taking advantage of the high demand for products and it was imperative that enforcement authorities were taking preventive initiatives.
The webinar was also addressed by Mr. Amaresh Kumar, Additional Commissioner, GST Policy, who stated that "the measures like the waiver of penalty, late fee and interest on GST will help the industry to tide through this tough phase". He also invited suggestions from industry members on issues relating to GST and areas that required policy interventions.
Ms. Kaleigh Miller, Global Brand Relations Lead, Amazon, gave an overview of Amazon's brand protection efforts globally. She informed that over 2.5 million bad-actor accounts have been stopped before they published a single listing on the site, highlighting the many measures taken by Amazon to detect the potential infringements and related remedial actions. She also highlighted Amazon's sophisticated real time tools, like productive analytics, adaptive machine learning and technology that help review data sources and identify signals, identify inauthentic goods and take immediate action.
An overview of Amazon's brand protection tools and efforts in India was given by Mr. Sumit Kapoor, Global Brand Relations Manager, Amazon, focusing on their brand registry program which provides powerful search and report tools. "It simplifies cases of potential infringement and provides a simple and guided workflow of submitting a report of infringement. It also helps to build the brand and business with promotional tools and customer analytics", said Mr. Kapoor.
The concern today was that trade in illicit products, aided by the Covid-19 crisis, was enriching criminal groups and endangering health, while also draining away vital industry and tax revenues. The webinar saw participation of leading industries such as ITC, Hindustan Unilever, Nestle, Britannia, Puma, Johnsons & Johnsons, Dabur, Beiersdorf, Mars, HP, Pernod Richard, Diageo, Underwriters Laboratories, among others including leading law firms. Some key concerns flagged by the representatives from these major players were:
• Need for a mechanism to monitor parallel imports which are not meant for sale in India.
• Tools to monitor counterfeit products sold with non-refundable caveats and consumers from being duped due to low pricing point and higher discounts.
• Availability of automated brand protection tools to remove duplicates/fakes.
• Mechanism to ensure that required regulations are met before sellers put products on the portal.
• Time taken between listing of a merchant and identification of bad actors.
Most participants agreed that brands were struggling in the diminishing market, with cheap counterfeits creating new listings on online marketplaces. They conclusively agreed on the need for a technology-enabled system to help counter illicit operations, besides an effective and strengthened deterrence actions against perpetrators of such criminal activities.
Related Posts
29 July 2022 | Karnataka Police Academy, Mysuru The magnitude of the problem of...