FICCI CASCADE Inter-School Competition on ZERO Evasion – 'Fight Against Counterfeiting and Smuggling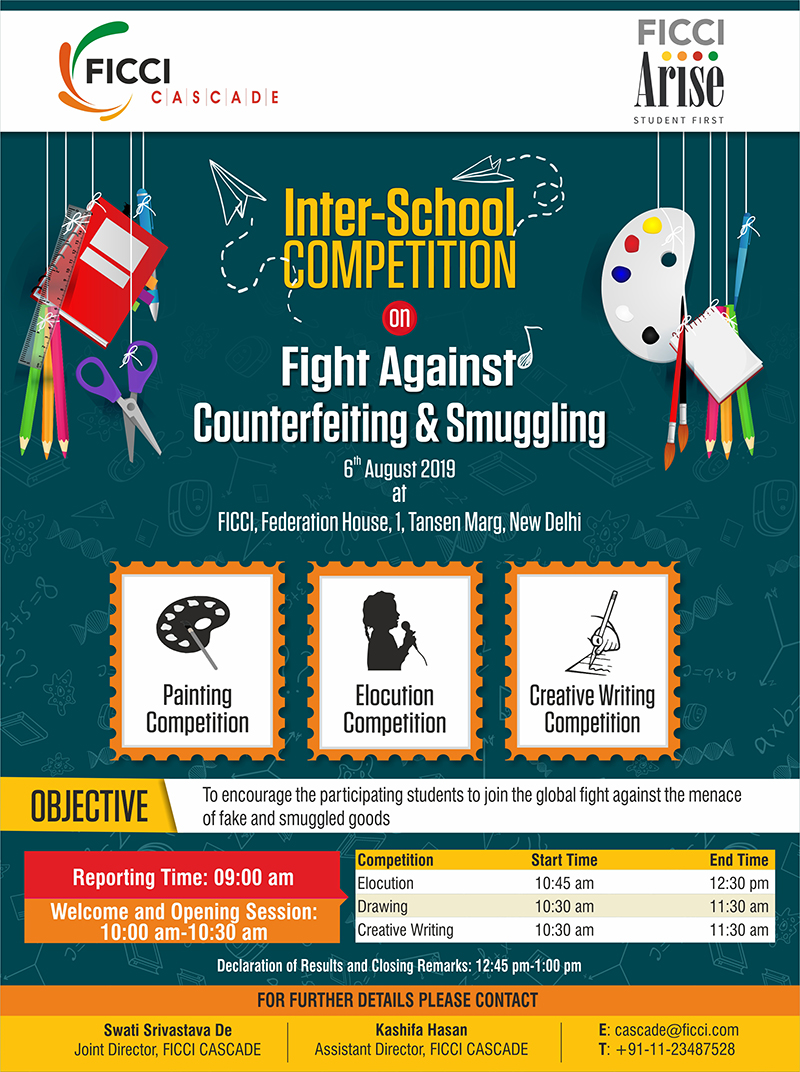 FICCI CASCADE, as a part of its objective to increase awareness about the growing threat of counterfeiting and smuggling, is organising a youth event: "Fight Against Counterfeiting and Smuggling" on 6th August at FICCI, New Delhi. The programme will have interschool competitions among the students of the school of Delhi and NCR in the following/categories:
Painting Competition        

Elocution Competition           

 Creative Writing Competition
The objective of such competitions is to increase awareness among young children to fight the menace of fake and spurious goods. This in turn is also expected to inspire them to be socially responsible citizens. Over 50 schools and about 350 students from Delhi NCR and few other across India, participated in the competitions. The competitions were judged by Mr. Hem Pande, Former Secretary, Dept of Consumer Affairs, GoI, Mr. Sanjiv Tripathi, Former RAW Chief, Mr. P. K Malhotra, Former Secretary of Law and Justice, GoI and Mr. Deep Chand, Former Special Commissioner of Police, New Delhi and Advisor, FICCI CASCADE. Mr. Hem Pande in his opening remarks  said that we are almost one fifth of the world population and therefore we have a huge market for consumer goods. Our concern as a society and as a consumer is that we should not buy any fake or smuggled product. He encouraged the students to make a change in the society by shunning fake products and saying no to smuggled goods. By this they will be our Young CASCADER's – ambassadors to the world spreading awareness on the hazardous impact of smuggled and counterfeit products amongst consumers and citizens.
The winners are as follows:
#
Name of the Competition
1st
2nd
3rd
1
Elocution
Mannat Arora

Class: XII-C

School: Blue Bells Model School, Gurgaon

Khyati Pareek

Class: XII-E

School: Modern Public School, Shalimar Bagh

Vidhi Bisht

Class: XII

School: Nehru World School

Bhavya Pokhriyal

Class: XII

School: Queen's Valley School, Dwarka

2
Painting
Supriya Baital

Class: X C

School: Birla Vidya Niketan, Pushpa Vihar

Vismit Kaur

Class: XI-D

School: Spingdales School, Pusa Road

Shreyas

Class: IX-D

School: St. Columba's School, Ashok Place

Pranav Sharma

Class: IX-A

School: Don Bosco School

Alaknanda

Pratishtha Dinkar

Class: X-A

School: A.G.D.A.V Centenary Public School

Model Town

Shreya Mishra

Class: XII

School: The Future Kids School

3
Creative Writing
To be announced later
Related Posts
22/2/2013 | Tamil Nadu The 8th consultation at Chennai brought experts to...