Illicit Trade: A Growing Economic Menace
12/10/2017 | ITC Maurya, New Delhi, India
Illicit trade holistically disrupts the sustainable development of a nation. It not only leads to loss of revenues to states, but also risks legitimate businesses. Besides, illicit trade causes significant threats to the health, safety and security of the citizens, as well as adds to costs on governance, environment and biodiversity. Moreover, globally it fuels transnational crime, corruption, and terrorism. As it converges with other criminal activities, it undermines the rule of law and the legitimate market economy, creating greater insecurity and instability around the world.
Across the globe, illicit networks are infiltrating and corrupting the economic development of the nations. With the advent of technology, illicit trade and organized crime have found voguish nexus causing the problem to increase manifold. FICCI's Committee Against Smuggling and Counterfeiting Activities Destroying the Economy [CASCADE] has, over the years, been concertedly addressing this issue through its various pan-India awareness generation activities, building capacities of law enforcement officials and undertaking ground breaking research on the extent and impact of the menace.
In furtherance of its mandate, FICCI CASCADE organized the 4th edition of its International Conference titled – MASCRADE, 2017- Movement Against Smuggling and Counterfeit Trade in New Delhi on 12th and 13th October 2017. The theme of this year's conference was Protect Your Brand Globally: Fight Counterfeiting, Smuggling and Piracy. MASCRADE 2017 was structured to ensure that national and international stakeholders deliberated to identify opportunities for joint action between governments, private sector, and enforcement machinery to combat illegal trade. The objective was to:
Look at the economic consequences of mass counterfeiting, smuggling & piracy and the strategies needed to deter this activity
Contribute to an integrated vision of security and public safety
Deepen understanding of "grey markets" for illicit goods, to assess their impact, and to promote practical recommendations and effective strategies by the public and private sectors to dismantle them
Develop a better enforcement ecosystem and to protect the interest of brand owners in India
Inaugurating the conference, Mr. Shatrughan Sinha, Member of Parliament, Lok Sabha, emphasized on the need to focus on not only to promote India's goods and services, but also to increasingly protect our goods and services against smuggling and counterfeiting. He urged all the stakeholders to take this agenda to the global platform and engage actively with transnational enforcement agencies, including NRIs, in the movement against illicit trade. Lauding FICCI CASCADE's commitment and drive to curb smuggling and all forms of illicit trade, which was helping in creating awareness on this serious problem, he observed that more such initiatives were called for to change the mind set of consumers on the use of illicit goods and services, and the role they could play in the fight against the growing socio-economic threat.
Mr. Suresh Prabhakar Prabhu, Union Minister for Commerce and Industry, Government of India, through a video message, underlined the fact that with India moving towards becoming a knowledge economy, respecting and protecting the knowledge and intellectual property of its creators was a key component for the country's rapid growth. He assured the forum that the government was committed to this end, and was taking measures to put in place a robust and effective regime to guard the economy against all forms of illicit trade.
Mr. Anil Rajput, Chairman, FICCI CASCADE, in his welcome address, stated "Proceeds from Illicit trade are increasingly becoming the main source of terror funding. We need to understand this relationship and work towards effective mechanisms to counter its worldwide impact. It is a race against time as all of us are the stakeholders. The policymakers are steadily taking steps but the need of the hour is to seek bold and out of the box solutions".
Highlighting the several initiatives undertaken by the Government of India to fight the menace of smuggling and counterfeiting, Mr. Pranab Kumar Das, Member, Customs, Central Board of Excise and Customs, highlighted the need to create ownership and to build a relationship of trust between the government agencies and private sector. The need of the hour was to create a level-playing field for the stakeholders to curb tax evasion, black economy and revenue losses, he observed, while adding that CBEC was a potent force which was ready to partner with FICCI and the private sector to fight illicit trade.
Mr. Sergey Kapinos, Regional Representative, South Asia, United Nations Office of Drugs and Crime (UNODC), in his address, said that smuggling and counterfeiting goods not only hampered the economic growth of a country but also adversely affected the social fabric and the well-being of its people. There was a growing need to collaborate globally for framing robust policies and effective implementation to curtail this economic menace, he added.
During the conference, FICCI CASCADE and KPMG India released a report titled- 'Illicit trade: Fuelling Terror Financing and Organised Crime'. According to the report, India was the third most affected country by terrorist activities in 2016, with the first and second positions occupied by Iraq and Afghanistan, respectively. Another feature highlighted is that counterfeiting stands as the second largest source of income for criminal activities such as terrorism globally, as estimated by United Nations Commission on Crime Prevention and Criminal Justice (UNCCPCJ). Also, terrorist organisations are manufacturing counterfeit goods and smuggling them across borders to finance their crime operations. Prominent terrorist organizations such as Hezbollah, Lashkar-e-Taiba, Al Qaida, Irish Republican Army, etc. rely on illicit trade for financing up to 20% of terror operations.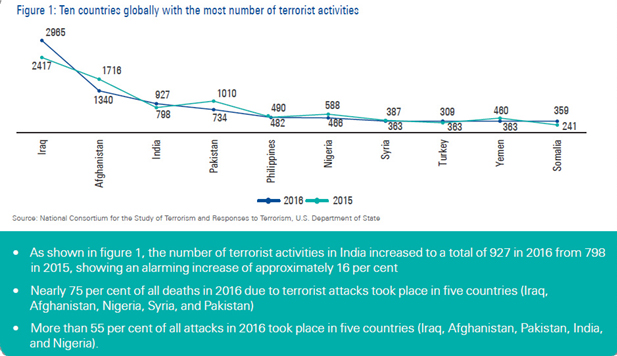 The report also highlights that the total employment losses globally due to counterfeits and piracy stood at 2 to 2.6 million jobs in 2013 and is expected to rise to 4.2 to 5.4 million jobs in 2022, suggesting an approximate increase of 110 per cent. The most commonly counterfeited and smuggled goods are tobacco, cigarettes, electronic items, gold, machinery and parts, alcoholic beverages, auto components, Fast Moving Consumer Goods (FMCG) and mobile phones. As per KPMG, in India's analysis on UN COMTRADE data for years 2012-16, the average annual smuggling of electronics was around Rs. 3,430 crore. Similarly, the average smuggling of gold for these years was Rs. 3,120 crore, and machinery and parts Rs. 5,913 crore. Further, the percentage penetration of illicit trade in the cigarettes market increased from 15% to 21%. Factors like higher taxation rates, availability of cheaper alternatives, lack of awareness and lack of enforcement mechanisms are key factors that drive illegal trade in India.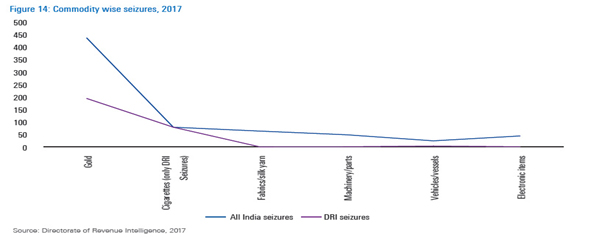 The conference, spread over two days, highlighted and deliberated on issues such as ways of countering illicit market operations, defending brands, reputational and financial impact due to illicit market operations, collaborations among law enforcement agencies to fight illicit trade and cross border organized crime, combating content theft in the digital economy, anti-counterfeiting, anti-smuggling & brand protection strategies and solutions – among others. The discussions also focused on the socio-economic consequences of cross border illicit trade and the policies needed to deter this activity. The interactions contributed to an integrated vision of national security and public safety, enabling an interdisciplinary dialogue among the participating industry regulators, customs and law enforcement officials, major producers of consumer goods, consumer associations and NGOs. With an underlying objective to deepen understanding of illicit trading activities across borders, the meet also was a useful forum to discuss effective strategies to dismantle such illegal business practices by the public and private sectors.
The conference saw participation of a host of notable international speakers from World Customs Organization (WCO), INTERPOL, United Nations Office for Drugs and Crime (UNODC), Organization for Economic Corporation and Development (OECD), US Homeland Security and US Patents and Trademarks Office, and senior private sector executives from Louis Vuitton, Beiersdorf, PUMA, etc. The forum was also addressed by senior Indian government officials, including Mr. Rajiv Aggarwal, Joint Secretary, Department of Industrial Policy & Promotion, Ministry of Commerce and Industry; Mr. D. P Dash, Director General, Directorate of Revenue Intelligence; Mr. Sushil Satpute, Director, DIPP; Mr. M M Oberoi, Joint Commissioner, Delhi Police.
India has a committed border protection force as well as enforcement agencies that not only safeguard the long national borders against trans-border criminals, including smugglers and terrorists, but also enforce anti-smuggling & anti-counterfeiting laws. To encourage and acknowledge the work of India's law enforcement agencies, FICCI CASCADE, during the MASCRADE 2017, also felicitated the best performing officers for the period 2016-17 for their outstanding achievement in the preventing of illicit trade, and enforcing of anti-smuggling & anti-counterfeiting laws from several Government agencies such as:
1. Indian Customs
2. Directorate of Revenue Intelligence
3. Indian Coast Guard
4. Sashastra Seema Bal
5. Assam Rifles
6. Delhi Police
Lear More